Our Core Values
With a vision to return the heart and soul to the beauty industry, Peter and Jackie founded AUSBeauty on five Core Values.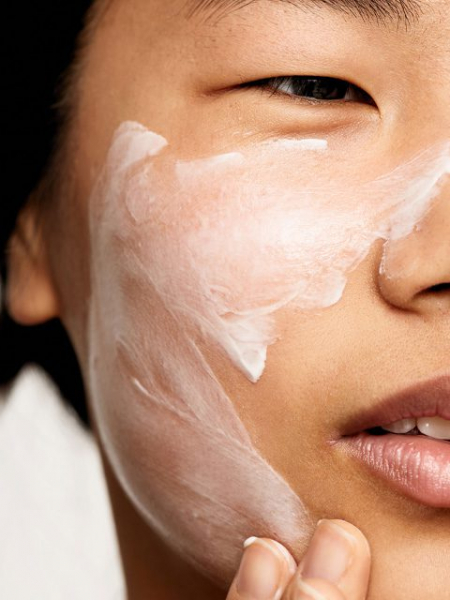 Integrity
Doing the right thing when no one is watching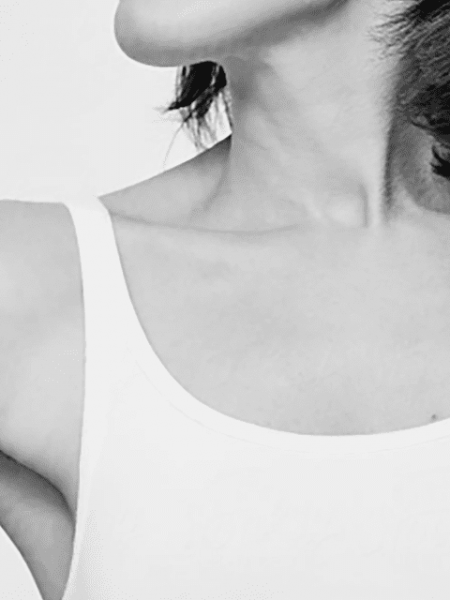 Transparency
Honesty always,
no matter what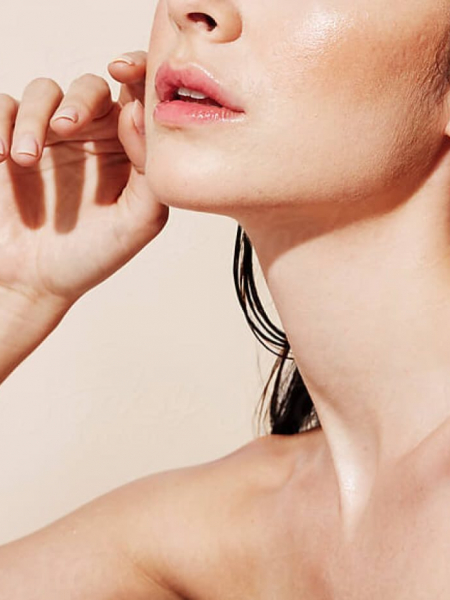 Customer Centric
Not just a department,
a company culture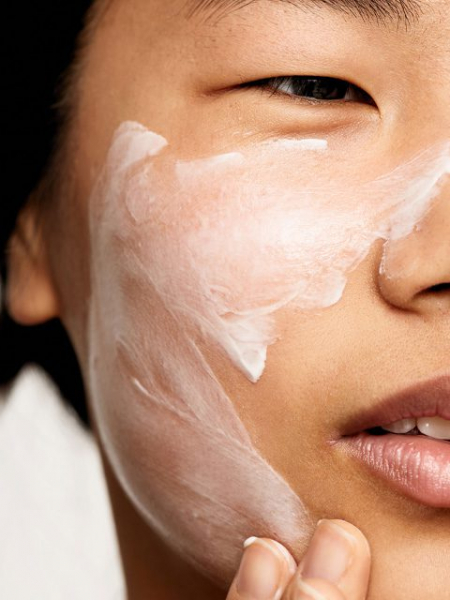 Integrity
Doing the right thing when no one is watching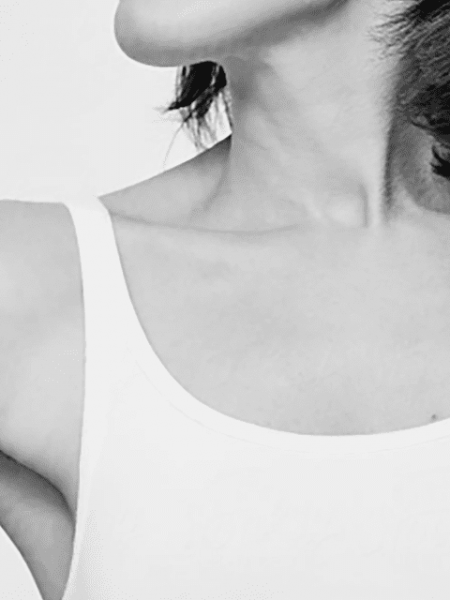 Transparency
Honesty always,
no matter what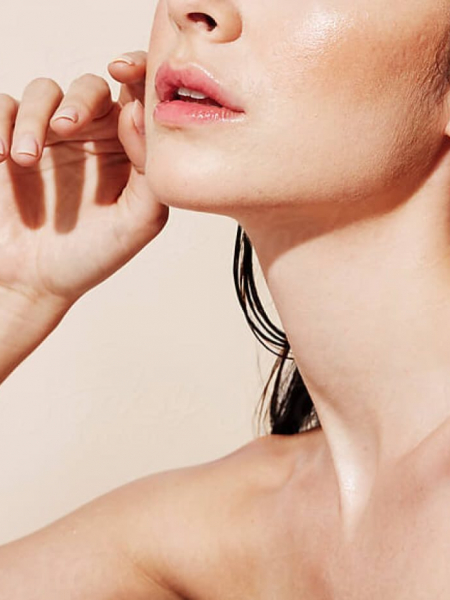 Customer Centric
Not just a department,
a company culture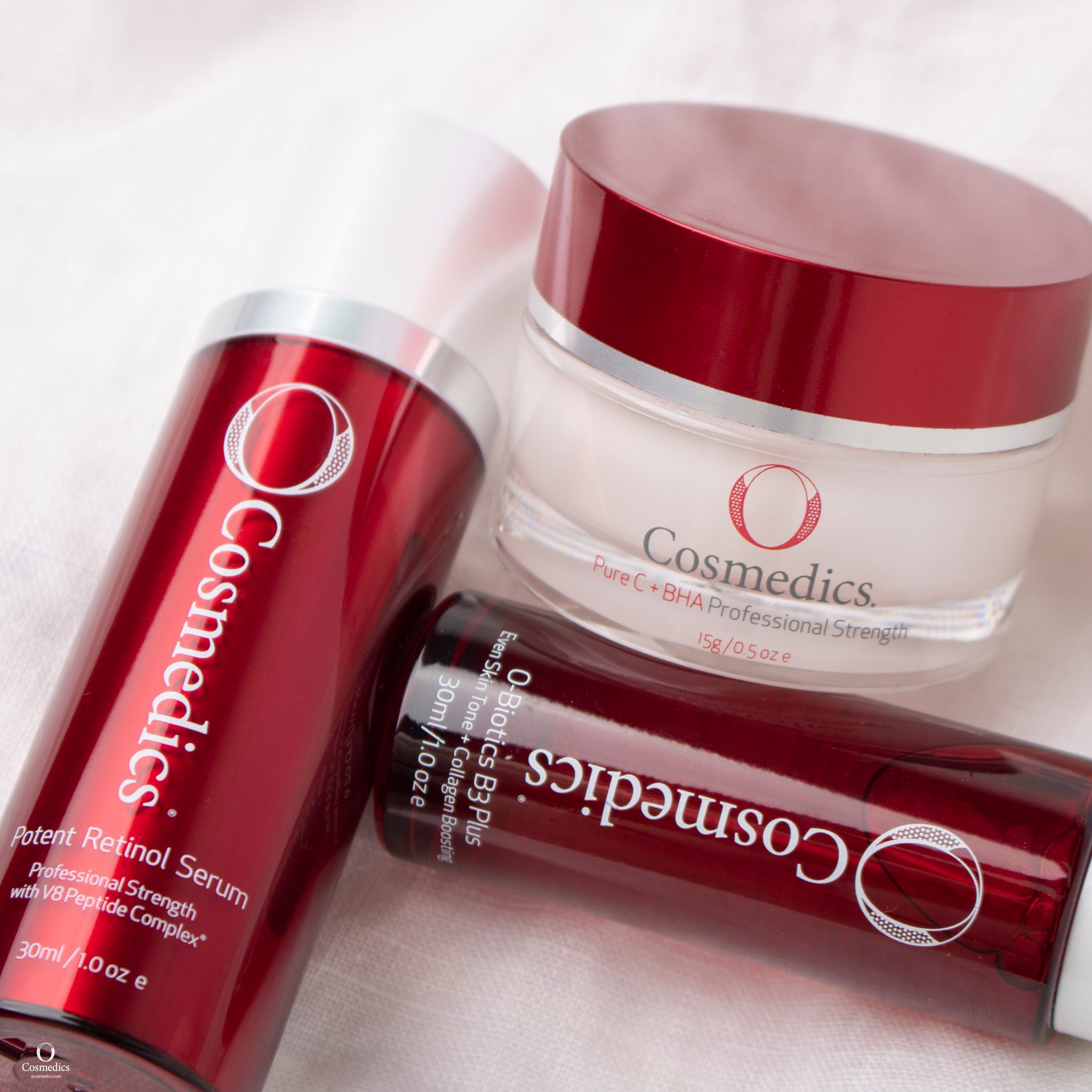 Join the AUSBeauty Family
At AUSBeauty we don't have stockists or clients – we have Partners. We use the word Partner because we partner in each other's dreams for ultimate healthy skin and healthy businesses. Our philosophy is win-win and we remain committed to supporting you through the challenges and when popping the champagne in celebration!
You'll be in good company with the AUSBeauty family. We partner the crème de la crème of the industry; our partners are innovators, dreamers and risk takers who aren't afraid to create the change they want to see in themselves, for their businesses, team and ultimately their clients skin health.
AUSBeauty Brings Show-Stopping Products to North American Audiences
Treat your skin right with AUSBeauty's top-of-the-line brands and products.
Sun damage, pollutants and irritants put your skin at risk every day. Battling breakouts is a drag. Freckles, scars, wrinkles, and fine lines can undermine your confidence like that.
Your skin is an incredible and beautiful thing, but it takes a beating out there. AUSBeauty knows that you get out what you put into your skincare routine – we're here to provide the best brands and products, so you can have the skin of your dreams in no time. Skip the experiments, stop wasting money on fad brands and bizarre online hacks. AUSBeauty offers a simple philosophy, a commitment to excellence, and products that will change your skincare standards forever. 
OCOSMEDICS the D is for skin medicine ,cosmeceutical strength at its strongest.
Who is AUSBeauty?
O Cosmedics, the #1 clean medical grade skincare line in Australia and New Zealand, takes North America by storm.
Our AUSBeauty founders, Peter and Jackie (Australian/Canadian citizens), bring a unique philosophy to our business, and it stands head and shoulders above the rest of the confused, oversaturated skin care market. Five core values, one message – you deserve the best.
Integrity:

Even without an audience, doing right by our customers is doing right by ourselves

Transparency:

No excuses, no fluff, no smoke and mirrors – just good, old-fashioned honesty

Customer Centric:

You make our world go around, so we revolve around you

Positivity:

Life gets crazy sometimes – we're committed to embracing the chaos, rising above, and finding solutions

Family:

The AUSBeauty commitment extends beyond the business. We're a family, and that means love, care and empathy first, forever
These values have given AUSBeauty an edge, setting us apart. We are also the exclusive distributor of the most respected skincare product line in the professional skin care industry in Australia and New Zealand, O Cosmedics. We supply O Cosmedics to a number of clinics and spas across Canada and the US, and we couldn't be more proud!
O Cosmedics
O Cosmedics have a lot to offer – we love them. They share our values, we trust the science, and we just ADORE their O Confidence movement! O Cosmedics offers solutions for all skin types and a wide variety of common skin issues. Take a look at just a small portion of the O Cosmedics product line:
Cleanse and Exfoliate
O Cosmedics carries exfoliants and cleansers that gently free your skin from dead cells, pollutants, and irritants. There's a solution for everyone – like our favourite exfoliating cleanser that buffs away the day's grime using all natural cranberry seeds, jojoba beads, and Diatomaceous earth. Prefer a peel? O Cosmedics has you covered with a fruit enzyme mask. 
Skin Correction and Hydration
When it comes to skin correction, serums  O Cosmedics offer serums specially formulated to meet your needs – brightening, age defiance, skin clearing. 
Eye Essentials
Your eyelids are home to some of the most delicate skin on your face. O Cosmedics provides feather-light eye products, to correct puffiness,dark circles and lines 
Kits and 1SKIN
O Cosmedics offers four amazing skincare kits that have everything you need to tackle common skincare crises – from teen care to age defiance. But we have to ask: why put fast-beauty cosmetics over your beautiful, freshly-O Cosmedics-treated skin when you don't have to? 1SKIN has a full line of  cosmetic foundations, and a luxury primer to boot.
Anti Agine skincare and makeup in 1
The 5 Causes of Aging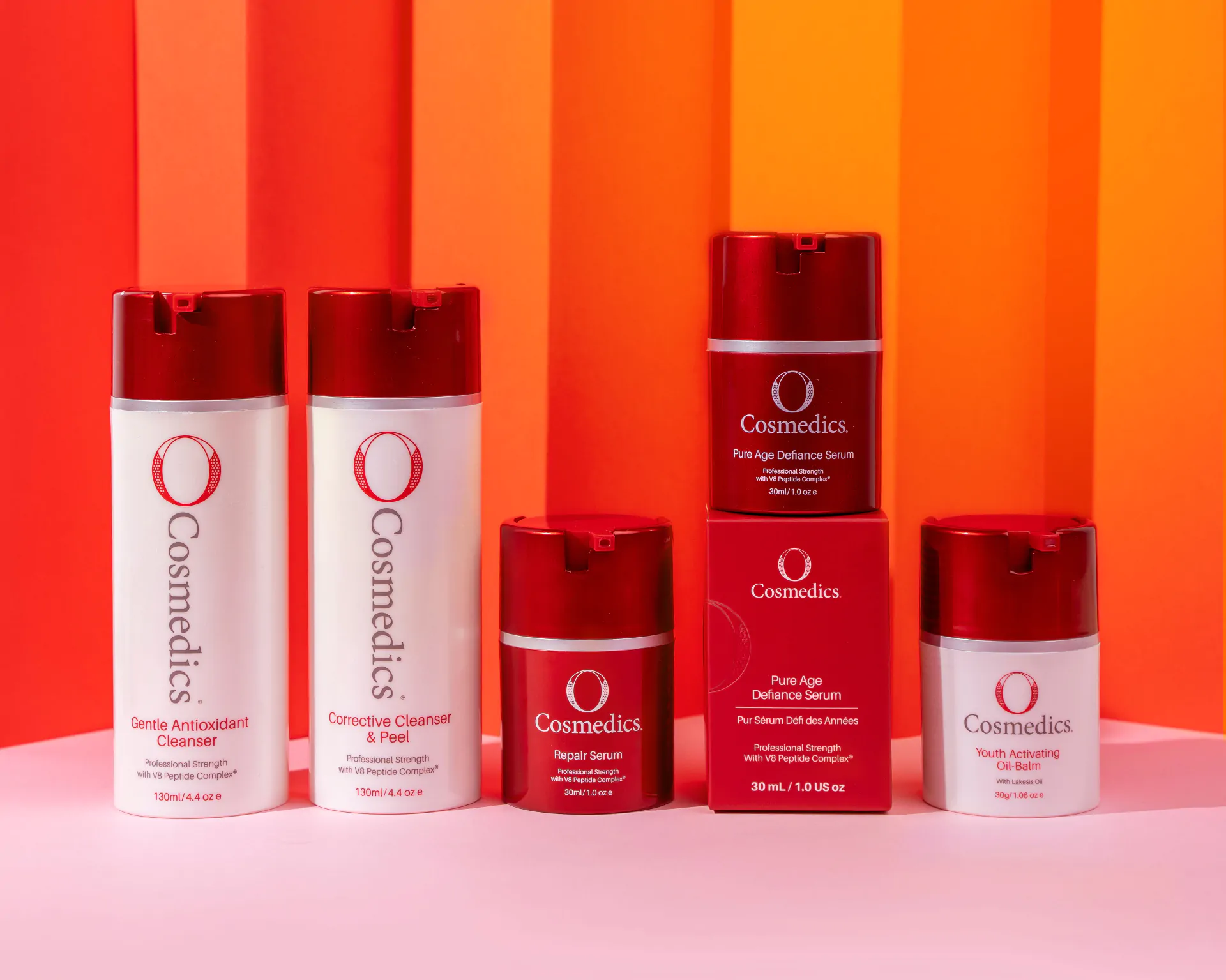 O Cosmedics was designed on the threshold of medicine to treat the five major causes of aging: Collagen Breakdown, Photo Defence, Oxidation, Inflammation and Glycation.
Without a committed and active approach, combining the application of a corrective homecare skin health routine and regular in-clinic O Pro Dermal Planning and O Pro Dermal Active Treatments, these five causes and their domino effect will ultimately lead to deterioration of skin health, resulting in compromised skin function and visible early onset aging.
Let's unpack and understand these 5 major causes of skin aging:
1. Collagen breakdown: Collagen and elastin fibers are the foundations which give skin structure, support, flexibility, and hydration. Imagine them as the foundations of a house, the stronger, healthier, and more supportive they are, the longer the longevity and integrity of the home. The structural support system of the skin, collagen and elastin begins to break down quite early in life and requires specific key ingredients to ensure constant renewal and protection.
2. Photo Defence: Photo-aging is a term used to describe the damaging effect of repeated sun exposure over a period of years without adequate protection and most importantly, prevention. The harsh climate in which we live, and love contributes to almost 90% of the visible signs of premature aging, hyper pigmentation and skin cancer and these damaging symptoms are prevalent amongst all of us. UV exposure contributes to the oxidation and destruction of all skin cells and the cells responsible for synthesising collagen and elastin, resulting in an inability for these cells to repair themselves and in turn function the way they were created to.
3. Oxidation: When defining oxidation, think of how a sliced apple begins to turn brown when left out in open air. Oxidation is when the internal processes and structure of a live object (in context to the skin) are destroyed by environment, the air in which we breathe and the pollution within it. Oxygen molecules split and turn into free radicals which are tiny molecular scavengers with one job in mind: to destroy the natural tissues within all layers of skin. Once inside the skin (like the sliced apple) these free radicals will break down the cells structure, mutate their processes and ultimately lead to a break down in cell-to-cell communication. If the cells of our skin cannot communicate, they continue to fall apart. Antioxidants are the antidote to free radical damage and, whilst the body can produce its own antioxidants, it is simply not enough without topical support.
4. Inflammation: Inflammation is classified in two ways: acute and chronic. The acute inflammatory process that skin undergoes is essential in wound healing and differs dramatically to chronic inflammation. Think of acute inflammation as an open wound or cut that essentially heals itself: a natural process. Chronic inflammation is the subtle and constant inflammatory process happening unbeknown to the naked eye and without an actual wound. Where there is chronic inflammation the skins immune system is impaired leading to the inability to heal and protect against invading organisms and allowing bacteria to enter the skin which leads to premature aging due to the constant breakdown of all skin structures and processes.
5. Glycation: It saddens us to confirm that excessive sugar does lead to accelerating aging, as skin is literally fed the contents of our gut through the circulatory system. When there are excess sugar molecules in the body they find their way to the collagen and elastin fibers within the skin and attach themselves. This binding to these important fibers leads to them becoming rigid, less elastic and dried out and therefore with an inability to regenerate into healthy fibers again, which ultimately leads to the skin presenting with deep wrinkles, loss of volume and a thinner appearance.